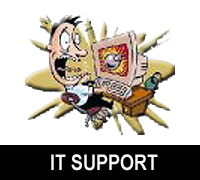 IT Support at the convenience of your home or office
I come to your place to help you, if I cannot solve your problem on the spot, I take care of the equipment (computer or laptop, printer, tablet etc ...), I bring it back to you and check that it works fine with you. At the same time, I bring you my know-how and can thus effectively train you.
Maintenance, reinstallation and configuration of new or old PCs.
Help with the purchase of a new system (PC tower or laptop)


Messaging Email - Internet connection
Configuration email accounts with MS Outlook or Mozilla Thunderbird
Solve problems sending or receiving emails.
Internet access issues
Internet Configuration ADSL Box, local network cables and WIFI


Infection - Security
Virus removal, spyware and ad pages.
PC cleaning, deletion of unnecessary files and applications, defragment hard drives
Solving problems of slowness.
Choose the appropriate virus protection.


Your data
Recovering your data and securing accounts.
If possible, recovery of lost data.
Setting up a backup of your data to an external hard disk.
Configuration of your data storage.
Transfer your data from your PC to your smartphone and / or tablet.